The work is a collaboration between artists Jilliene Sellner and Simon Crab and is a comment on glitches in automisation and our compliant reliance on AI. Cupid uses text ripped from a dating website, essentially users's answers to questions which are formulated to match potential partners together but usually falls short of calculating romatic chemistry. The text is then redacted then translated into French with Google translate, another automated system which lacks a depth understanding of language. Images are collated in the main from the artists' personal work then set into an algorithmic program that randomly match text to image creating a psuedo philosophical display reminding us of Chris Marker's La Jetée and positive affirmations prolifically populating our social media feeds. The arbitrariness created by algorithms is a metaphor for the haphazard nature of life, love and understanding which we often deny as we somewhat fruitlessly attempt to control these otherwise ephemeral spheres of life.

The work was first projected in Hastings during Coastal Currents 2018.

Powered by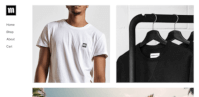 Create your own unique website with customizable templates.